FODERA NYC EMPIRE BASS, 5 STRING 24 FRET, SINGLE COILS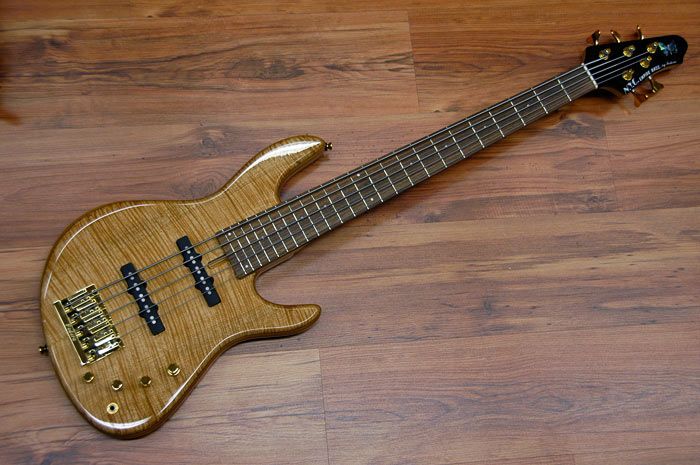 Back by popular demand, the new N.Y.C. Series of electric basses!

The concept behind the N.Y.C. basses is a more affordable "stock" instrument hand crafted, using the same quality woods as Fodera use in their more expensive custom models. In order to keep the cost down they build these in small batches, using the best of a limited palette of fine woods. Most N.Y.C. basses will be capped with a flame or quilted maple top. Other woods will offered occassionally as they come available.

Currently the Empire model is available in 5 string versions.

These are the common specifications to all NYC basses:
•Scale: 34" or 35"
•Number of frets: 21/24
•Double cutaway, solid body bolt-on neck design
•3-piece hard maple neck
•Rosewood or maple fingerboard
•lightweight Alder or swamp ash body
•Single coil JJ pickups, usually Aero or Duncan Custom. Also now Seymour Duncan Dual Coils (splitable)
•Specially designed and built Mike Pope Circuit w/Master Volume/Master Tone stackpot, blend, bass cut-boost, treble cut-boost, standby switch.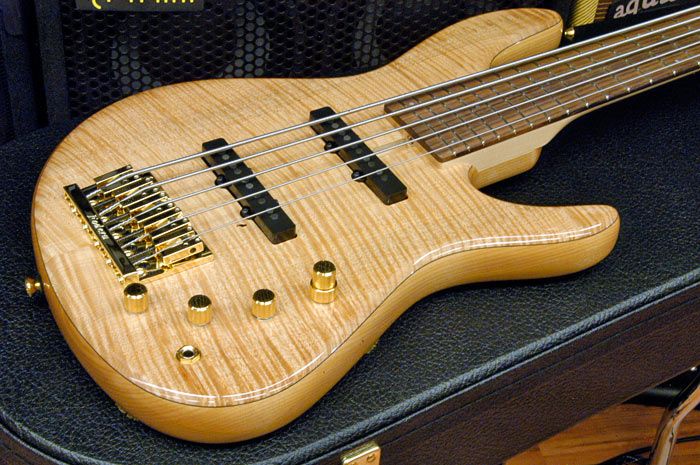 These are the specs of this particular bass:
• 34" scale
• 24 fret fingerboard
• Dual cutaway design and bolt on neck
• 3 piece maple neck
• Rosewood fingerboard
• Alder Body
• Beautiful flamed maple top
• Seymour Duncan Single Coil pickups.
• Active/Passive Mike Pope preamp with 2 Volume Controls, Master Tone, Balance and 2 band EQ.

As with all Fodera instruments, N.Y.C. basses are made with loving care from the best aged and select wood, hand fit, finished and setup to play like a dream. Whether you are a beginner or a seasoned pro, the N.Y.C. basses will perform for you.

While most NYC basses come with 21 fret necks, we ordered this 24 fret model with single coil pickups in Jazz Bass location. Most 24 fret neck basses tend to sound quite different from a good old Jazz Bass, so we wanted to check if sticking to J location would maintain some of that vibe, and we are glad to report that it really does. You get a great sounding J bass in a 24 fret/5 string version. A true working axe!

For us this is the definitive Jazz Bass. You can go from a true warm vintage tone to a thunderous 70's funk tone in a second just using the Passive Tone and then switching in the Pope preamp to boost the lows slightly.
We asked Joey Lauricella what pickups he was thinking of installing on this bass, and he said he was thrilled with some new Seymour Duncan Custom pickups that had been deseigned for Fodera exclusively (sorry, they are not availabe as a retro fit for other basses). Boy, was Joey right!
This bass has a really vintage sound to it, thanks to the alder body and Indian rosewood fingerboard but there's also plenty of attack.

You know how hard it is to find good 5 string Jazz Basses. Well, this bass has one of the best low B's in the business, but the real surprise comes when you learn that this is a 34" scale instrument. If you are not a friend of long scale basses for the extra stretch, this might be your perfect bass. Simply put, it has it all: great vintage Jazz Bass sound, amazing Power Jazz Bass sound, lightwight, great neck and amazing low B.

Fodera NYC Empire Natural
Fodera NYC Empire Natural

http://www.fodera.com/