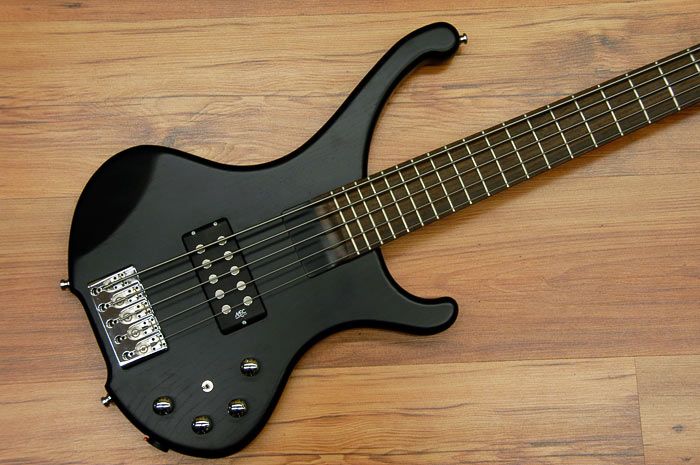 Bassline basses have been made for 15 years in Germany by luthier Rüdiger Ziesemann. From the Bassline shop in Krefeld come out some of the most special, imaginative and well made basses in the market today. Rüdiger combines centuries old craftmanship with the latest tools and CNC machines to produce the fabulous instruments that he creates in his mind.
This is a Black Buster Model, the most affordable in Rüdi's catalogue. This bass prives that you can have an excellent handbuilt bass with top of the shelf components for the price of a series made bass. There's just no comparison. Bassline is a family business, and they are not worried about selling hundreds of instruments. Instead, they offer amazing instruments for a very fair price. We defy you to find a factory made bass that comes even close to the Black Buster in terms of sound, playability and attention to detail.
In order to cut down the price to an absolutely minimum, the Bassline team have made the thoughtful decision to reduce the number of options, but at the same time are not cutting any corner when it comes to quality of construction, finish or components.
With a lightweight swamp ash body and a maple/padouk neck with 24 frets over the rosewood board (side dots only), you get a bass with a lively acoustic sound and a feeling of comfort like few basses offer. The extended upper horn is perfect for using the bass with a strap (great balance), and the dual strap knob at the base of the body mean that you don't need a stand onstage (just lean it over your amp), although we still prefer the use of a guitar stand.
When it comes to electronics, the Black Buster bass is offered in your choice of Soapbar or Single Coil pickups, as well as a single MM type pickup, as is the case here. A great MEC MM pickup is used, and it is run through a passive/active Noll TCM 3 band EQ. There's also a 3 way miniswitch to go from Single Coil, to Humbucker in Parallel to Humbucker in Series Modes. There are some other basses (some of them with a big name on the headstock) with a similar electronic arrangement, but the truth is that on those basses you find out that the only good sound comes from the Humbucker in Parallel mode, and that is in fact the mode that some players will use 99% of the time. Well, here's the good news: all 3 modes in the Black Buster are very useable and musical. Talk about value for money!
String spacing is 18mm at the bridge (centre to centre of string), so you can use any technique you can think of. The feeling of comfort doesn't stop here. The familiar 34" scale means you don't have to stretch your had as is the case in 35" basses. Of course this wouldn't work if the low B was weak, but we are glad to report that it is loud and clear.
The battey is located inside the electronic cavity at the back, but you't need any tool to change it as you can see in this picture: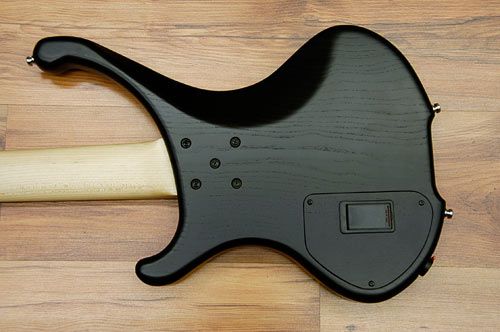 A Neutrik locking output jack nicely completes the package of a professional bass that sells for a surprisingly low price.

There are also 4 & 6 string versions as well as fretless and left handed.
The only colour available is, you've guessed it, Trans Black.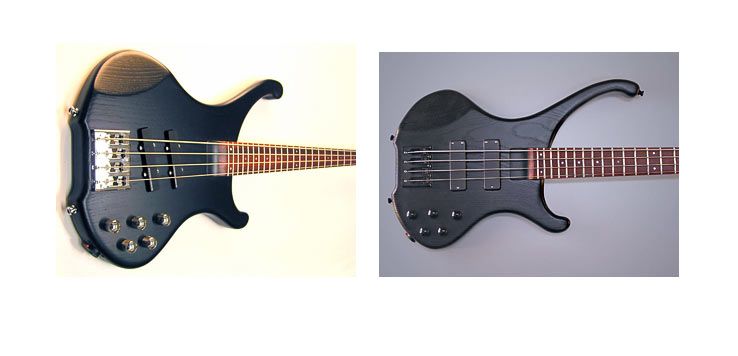 Bassline Black Buster Classic 5MM
Bassline Black Buster Classic 5MM

http://www.bassline-bass.de