ALEMBIC SIGNATURE STANLEY CLARKE DELUXE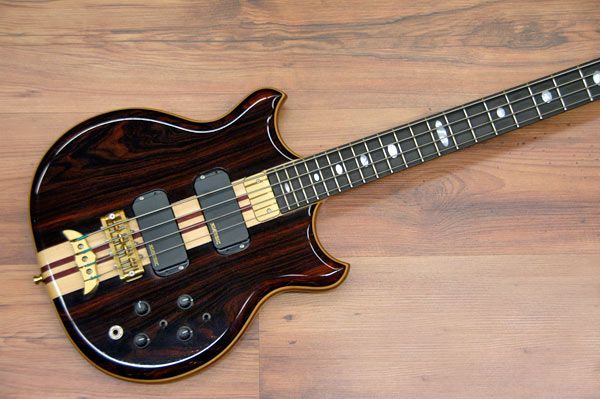 Alembic are true pioneers when it comes to modern electric bass, having introduced many features that are today considered standard in the industry. Alembic have a story as a brand that goes back almost 40 years, so we'll just tell you some details about the beginning of this now classic name:
At first Alembic was a consulting firm for some of San Francisco Bay area bands, and started to work on some instruments that needed constant repairs and also had noisy electronics. Ron realized high impedance pickups have a very limited badwidth, so he designed low impedance pickups that had a much broader frequency response, but also lower output, so he also developed the first onboard active electronics to boost the signal. Alembic founders Ron Wickersham, Bob Mathews & Rick Turner used the instruments of Jack Casady (Jefferson Airplane) and Phil Lesh (the Grateful Dead) to analize all the details and come up with improvements in electronics and more. The first Alembic bass was delivered to Jack Casady in 1971. By 1974 Stanley Clarke was sarting to get reckognicion and he needed a better instrument, so when he chose an Alembic, he boosted the company's name significantly and this in part made Alembic a primarly bass company (although they've always produced some guitars too).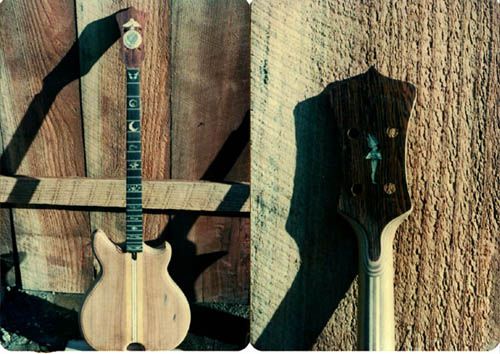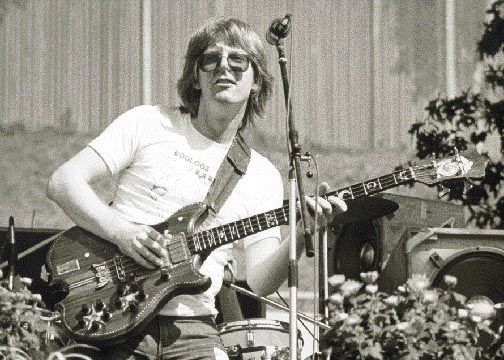 Phil Lesh's Alembic Osage bass being buit & Phil using it onstage in 1974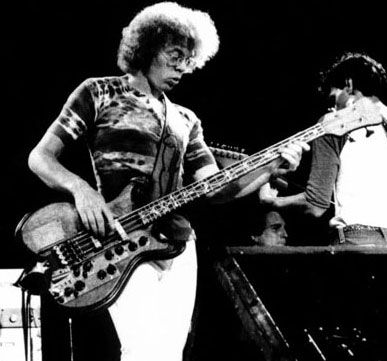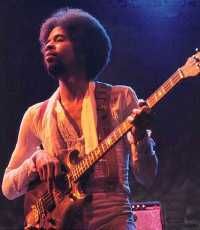 Jack Casady & Stanley Clarke back in the '70
Currently Alembic offer 10 electric bass models and one Electric Upright. It can be said they wrote the book on custom options, so these 10 models are just the starting point. Options include 7, 8, 10 & 12 string designs, as well as double basses. Prices go from roughtly 3,000 Euro for a 4 string Epic or Ecxel upt to more than 12,000 Euro for a 6 string Series II instrument.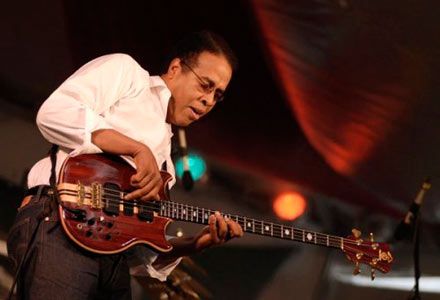 Stanley live (recent)
This bass is a Stanley Clarke Signature Deluxe, and is one of the most sought after basses in the Alembic catalog, due to the great exposure that Mr.Clarke along these years live and in his successful recordings "School Days" (1976), "If this bass could only Talk" (1988), etc.
The Neck through design is built from 3 main pieces of maple and 2 purpleheart stringers, and the body wings are made from mahogany. The top and back are made of rosewood (it doesn't come nicer than this), and the ebony fingerboard has the trademark oval inlays and comes with 24 perfectly dressed frets. This allows you to get a low action that is just a joy to play. Even two handed tapping is a breeze, and of course slapping sounds clear, open and rhythmic.
Just like Stanley, this bass has a thin neck taper and short (30'75") scale. If you've seen Mr. Clarke closely, you'll know he is a tall guy with huge hands. He doesn't need a short scale bass for comfort (although if your hands are small, this bass is a breeze to play). He prefers a shorter bass because of the sound and feel. It behaves admirably well in the lowest notes (even down to open E), and of course sounds warm due to the low string tension.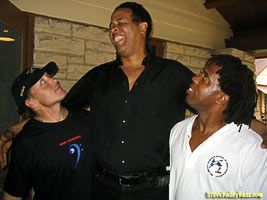 Stanley Clarke with fellow big bassists Steve Bailey & Victor Wooten
The short scale also makes it a perfect Picolo bass for alternate tunings or solo playing.

As we said before, Alembic were the first to develop some of what today are considred as standard features, and this bass comes with some of them:
- Multilaminate neck
- Use of exotic woods
- Height adjustable brass nut
- Bridge and tailpiece for better string angle
- Own made active electronics
- Two truss rods for perfect control of the neck's curvature.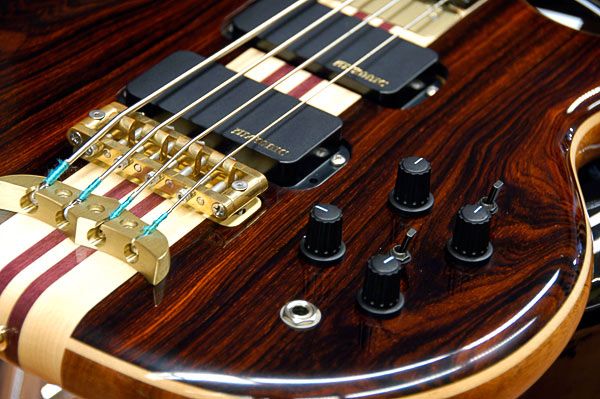 ELECTRONICS:
Alembic are famous for their ultra effective electronics. This model comes with two Alembic AXY4 humbuckers and a very well thought out circuit. With a minimum number of controls you get an amazing variety of useable tones.
There's a Master Volume and Master Balance plus 2 Tone Controls (one for each pickup). We assure you won't be missing any extra EQ or Tone controls. This bass shows that when everything is done right, you get excellent tones with just a few controls. The passive Tone controls prove to be really musical and effective, so experimenting with them and the Balance control produce enough sonic variation to cover a lot of styles.
But there's more: 2 "Q" switches (one per pickup) transform the passive Tone Controls into powerful Low-pass Filters. This control tunes the low pass filter section, yielding sounds that are the closests electyronic equivalent to the waveforms of naturally resonating acoustic instruments. The gain of this system can be controlled with a small trimpot in the electronics compartment.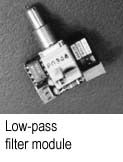 The result is a bass that is powerful, natural sounding and also very versatile.
This is one of these instruments that actually encourages you to study and makes you play cleaner, as it does not "hide" any mistakes from the player.
At the same time, this is one of the few basses that have entered the "Classic Bass Sound" club. It is instantly recognizable, and it has been used for decades, so it is a sound you can easily relate to.
Stanley Clarke owns lots of different basses, but when you think of him, the image of the Alembic comes first. Obviously this instrument has now become his trademark sound.


You could buy this bass if you are a collector, but it is actually a "studio machine; plug it into a high quality desk and you'll see why Alembics have been used for hundreds and hundreds of recordings.

With Alembic's hardcase.

Alembic Stanley Clarke Signature Deluxe
Alembic Stanley Clarke Signature Deluxe

www.alembic.com