Votan, the Voice of Bass!

This amazing Marleaux left handed bass is named Votan, and it perfectly merges old and new stuff.
The name is derived from Wotan, a Germanic mythology God (the godfather of all Gods), but Gerald Marleaux changed the name to Votan in a clear reference to the Voice.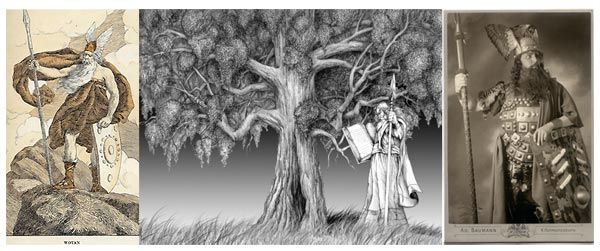 WOTAN GOD
As you know, Marleaux produce some of the best basses in the world, using the best tonewoods, exotic timbers, special pickups and electronics, housed in a modern and distinctive shape with extremely comfortable necks.
With a traditional shape and concept, this bass borrows some ideas from the past, but also features some of Marleaux's trademark specs, such as the 6 bolt heel-less neck joint, thick headtosck (to avoid dead spots) and versatile electronics plus unique pickups.
Gerald's idea was to come with a bass that will look and sound traditional, but plays like butter, has an excellent low B and offers many extra sounds if needed.
The body is made from a single piece of dibetou (a lightweight member of the mahogany family). The maple neck sports a beautiful slap of rosewood for the fingerboard, and comes with 22 frets. The number of frets and pickup type and location are some of the most determinating factors to achieve a given sound.

The neck is not only easy to play, but also feels absolutely familiar in the hand, almost like a good old 4 string, except it is a 5.
A traditional 34" scale is used in order to get the right sound, and we are happy to report that the low B is beefy and clear. Congratulations!
The pickguard favours slapping, but it can be removed if you so prefer. Marleaux also offer several pickguards so you can order a new one from us and customize your Votan.
The ETS bridge is compact and functional, offering not just lenght and height adjustment, but also string spacing.
Schaller straplocks are included.
Let's talk about the electronics:
The pickups might look unusual, and that's because they are. Gerald worked with Delano to design a pickup with special internal magnet design with 4 wires so multiple sounds could be achieved. Based on Delano's X/Tender oval pickups, these Marleaux/Delano units are not just unique looking, but also excellent thumb rests! Of course sound is the most important, and we can say that these are among the best pickups that we've heard lately. The Low end is full, the Mids growly and the Highs detailed and natural.
Each pickup comes with a 3 way Mini-switch that selects Single Coil, Humbucker in Parallel and Humbicker in Series. This arrangement is very powerful, but the difference is that while some similar basses produce 1 or maybe 2 good sounds, all 3 modes in the Votan are perfect. You get a true single coil traditional sound (J Bass type) as well as a perfect Parallel mode (Musicman type of sound), and a great Series mode that is perfect for Rock.
Add to that a Passive Tone control in Passive Mode, and 2 Band EQ in Active Mode, and you get a bass with an almost limitless number of sounds that remains musical and inspirational all the time. In Passive mode you get a wealth of sounds that cover any style, but if you need more punch just add a touch on Bass EQ in active mode and get ready to be shaken!
To sum up: a bass that plays like a dream, looks great, reproduces the sounds of the best basses of the last 40 years and offers extra versatility in a great value bass. We love it!
Please note: this is a used bass that was refinished from light blue to white. The white finish shows some wear in some areas of the body but other than that, the bass is in mint condition.
Updated: two pickguards are included for more visual options. See pictures
Marleaux Votan 5 Lefty (used)
Marleaux Votan 5 Lefty (used)
COMENTARIOS