We are glad to introduce these products that represent excellent value for money and come from the great bass player Adrian Maruszcyk. Here are some words from Adrian:
For 30 years and counting, I've been putting my heart into music and everything related with it. I've had the opportunity to use a variety of different instruments, amps and other gear during live shows and studio work. Thanks to extensive testing and research, I collected a great deal of experience in the areas of tone woods, pickups, hardware and strings.

The knowledge I collected during those years allowed me to create musical instruments, amplifiers and accessories for the working musician whose functionality, tone and price/performance ratio are second to none. The constant development and improvement of my products will always remain my top priority.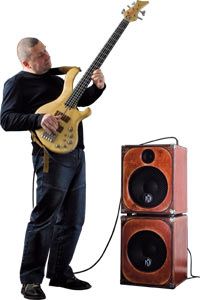 Adrian Kuban-Maruszczyk
We've met Adrian several times at International Trade Shows like the Frankfurt Musikmesse, the European Bass Day (Germany), etc. His slogan "from player to player" seems to perfectly reflect Adrian's approach to business.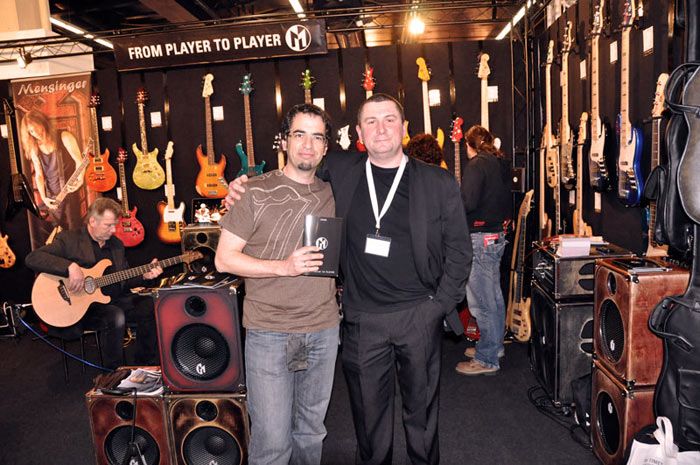 With Adrian at the Frankfurt Musikmesse 2009
Maruszcyk basses are professional tools for the working bass player who doesn't want to spend a fortune on a new instrument, neither he needs an "exotic" bass. You actually get more than what you pay for, and that is great news. That is why we have decided to add Maruszcyk basses to our stock. We think they fit really well in this price range.

MARUSZCYK ELWOOD 4xA

This is the Elwood model, meaning it is based on a very familiar bass guitar, but with a twist.
The ash body, bolt on maple neck and rosewood board with 21 frets might give you an idea of what this bass is about: traditional Jazz Bass tones, which it delivers perfectly.
The "A" in the name means it is the Active version. The onboard 2 band EQ made by Noll is actually quite powerfull, so in practice you get a bass that offers a great old school passive tone, and also a modern punchy slap tone (the Bass EQ is very handy here) at the flick of a switch.
As for aesthetics, the bass is beautiful y finished in Transparent Blue, bringing out the very nice grain of the ash body. A very specail touch comes from the wooden pickguard, that makes it elegant and distinctive.
Gigbag included.
Note: Maruszcyk bases use an English truss rod, so neck adjustment works the opposite way as standard (clockwise to tighten the neck).