While most acoustic basses are designed for plugged in operation, this Warwick Alien has a truly natural woody tone, thanks to the big rosewood body, solid cedar top and offset soundhole.
Scale is 34", instead of the usually shorter 32" or 30" found in most acoustics.
The Fishman piezo pickup is run through the flexible Fishman Prefix Pro preamp.
Access to upper frets is much better than in any other acoustic bass we've ever tried.
The fretted Warwick Alien has been around for some years, but this new fretless version is a great addition, and a true revelation.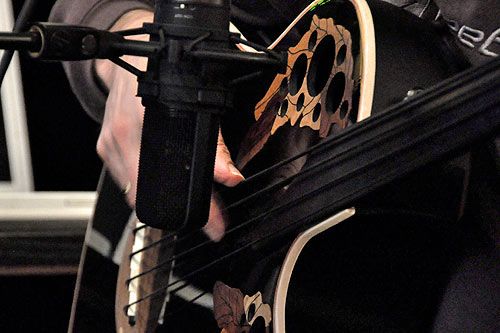 Recording acoustic fretless bass with a good microphone. What an experience!
If you have disregarded buying an acoustic bass, it might be because you have not found the right one. This one is pretty amazing, and more versatile than you think.
Obviously, it produces a wonderful "acoustic bass guitar" type of sound with the phosphor-bronze strings, without the usual harshness found in similar instruments. This is a great sound for band use, adding a nice acoustic quality to the sound that mixes perfectly with acoustic guitars and percussion, but is also very effective in bands with electric guitars and regular drumsets.
But the real treat comes when you take it to the studio. Put a good microphone in front of it, and record a few lines. You'll be amazed at how close it sounds to a miked double bass. Experimenting with right hand position and action (the neck is adjustable via the truss rod) is the key to get a sound that can go from "acoustic bass guitar" to "almost double bass".
The pickup is designed mainly for stage use, but it also captures a very natural "electric fretless bass" type of sound.
All in all, a very versatile bass that will give you the chance of getting quasi double bass tones in an instrument that is very easy to play and carry around. We love it!