SR Techlology
is an Italian brand especialized in top quality products for acoustic instruments, as well as small and portable quality P.A. systems.
The JAM BB300 combo has been developed especially for double bass, acoustic bass, fretless bass and violoncello.
The 8" woofer has a frequency ranging from low to 30Hz, supporting also the low "E" and ensuring clean and neutral sound purity and the dynamics typical of SR amplifiers.
The Onboard Mixer features 3 channels with all the specific accessories to make the sound response of Low End instruments perfect, warm, powerful and linear: from the Notch Filter controlling all the Larsen effects, to parametrical controls facilitating equalization in real time, and from Phantom Power for piezo pickup with XLR output or for condenser microphones, to XLR and Line In channels. All this, of course, is offered while still ensuring compactness and portability.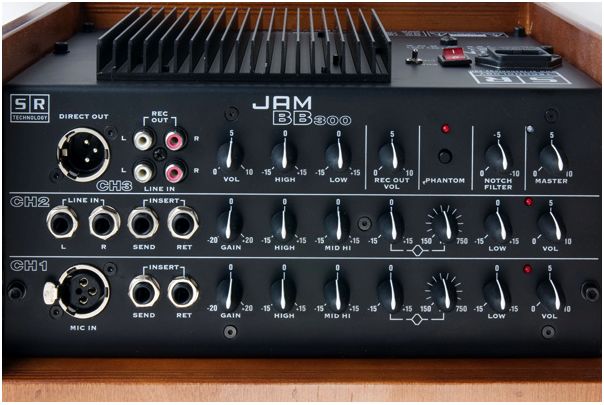 2 way design Bi-amplified bass reflex
8" woofer with frequency response up to 30 Hz + compression tweeter
a 30 Hz + compression tweeter
3 channels:
Channel 1: XLR input with Send&Ret, parametric controls, Phantom Power
Channel 2: L + R jack inputs with Send&Ret and parametric controls
Channel 3: Line in RCA
Notch Filter
Minimal size and weight
Handle for carrying with one hand