JERZY DROZD BARCELONA V (Carles Benavent signature Model)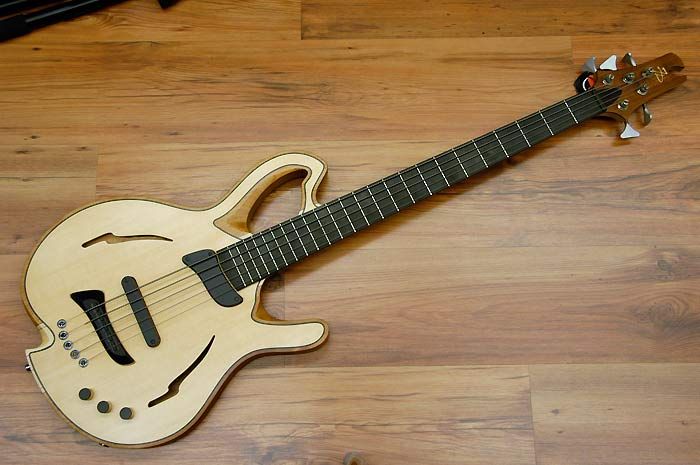 One of the most special basses to have reached Doctorbass.net.
It couldn't be any other way. We have the great Polish luthier Jerzy Drozd in Spain, and we are lucky to have flamenco bass master Carles Benavent too. Doctorbass.net is currently one of the leading bass showrooms in the world, so it made sense that we had this bass here.

As you probably know, we just love Jerzy's work. He has reached an amazing degree of mastery as a luthier and is able to realize his personal designs working with a small team of trained craftsmen.

Carles Benavent hardly needs introduction. Not just a great bassist, but a true pioneer, Carles is responsible for introducing the bass guitar in flamenco music. When Paco de Lucía called him, none of them really knew how far this could go; the rest is bass history.
From his musical beginnings with local bands Máquina and Música Urbana, this Barcelonian chose the bass "because it had just 4 strings and looked easier than guitar", and started playing with a pick and a very personal percussive style.

In 1995 he suffered a severe accident which seriously injured his left arm, causing Carles to rethink his future as a musician, but fortunately he recovered well and after appearing in the Jazz Festival of Getxo started the recording of the album, "Fénix". His career is plagued by collaborations inside and outside the world of Flamenco, with his personal style, intuition, rhythm and musicality, he continues to be continually in demand for live performances and recording sessions.
It was actually that accident that forced Carles to pick up a fretted bass "just to make things a bit easier at first". He found a new voice though and the fretted bass has become his main instrument since then, although of course still plays fretless. He also took this chance to experiment with extended range and tuned hos 5 string EADGC.
Some of Carles Benavent's recordings (selected)
Carles Benavent has released several solo albums and has appeared as a sideman in numerous projects from flamenco to jazz. In case you are still not familiar with his work, we recommend you get Chick Corea's "The Ultimate Adventure, Live in Barcelona" DVD/CD set. Carles at his best!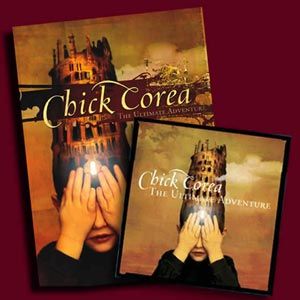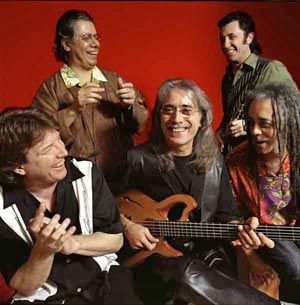 Fragement from the DVD. Video is out of sync, but audio is good.
Some interesting links:
http://www.klink.org/trio.htm
http://www.apoloybaco.com/carlesbenaventbiografia.htm
---
Carles has a collection of instruments, but his main basses along these years have been:
.
.

Gibson EB2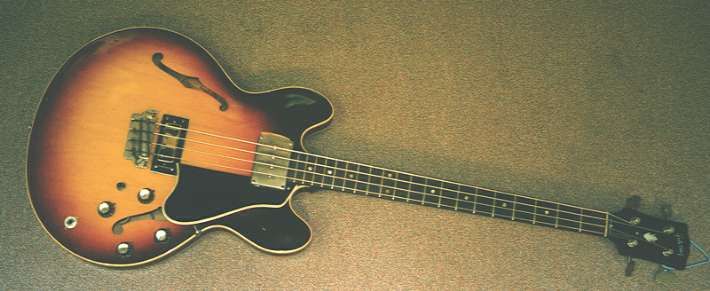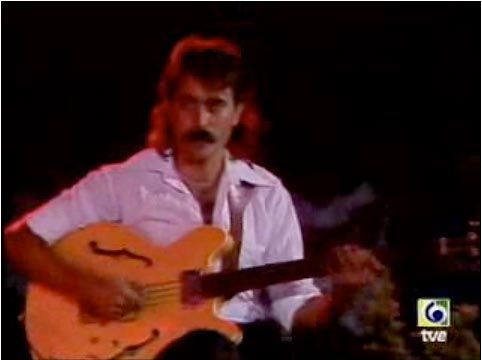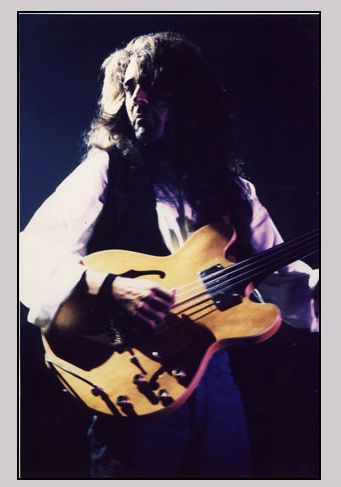 ---

.
.
Benavent model by Francesc Jordan, created in 1995 to suit Carles' needs at the time. Also a substitute for his old crushed Gibson that was literally falling apart.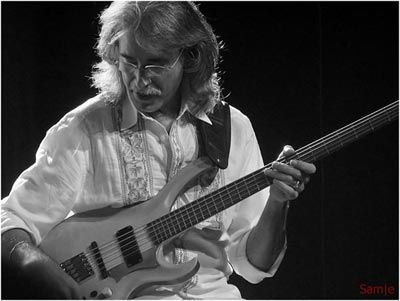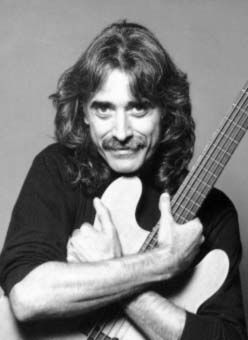 ---
.
.

Let's get to our bass, the Jerzy Drozd Barcelona V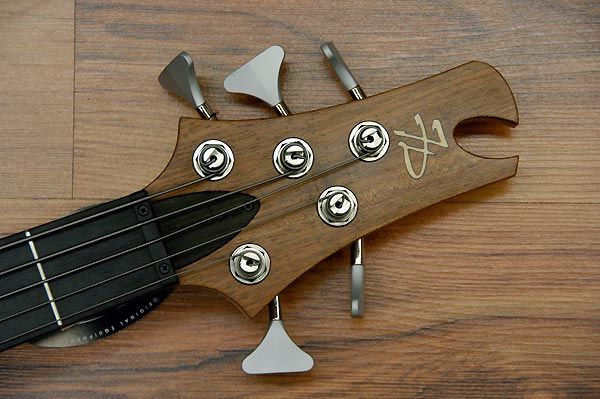 Born from the collaboration between Benavent and Jerzy, the first prototype saw the light in 2004. We were lucky enough to catch Carles at the 2004 Frankfurt Musikmesse using that bass. Among loud booths and pyrotechnical demonstrators, CArles plugged his brand new bass into a little EBS combo at the Jerzy Drozd booth and soon a crowd was gathering around with respect. He stole the show by playing a great set and inviting the audience to fingersnap on 2 and 4 while he grooved like nobody.

When Jerzy sat in front of a blank piece of paper (his computer rather), he had a clear idea about this bass. It had to be based on Carles' Gibson, but taking the desing into the 21st century, with a body that seems to borrow some lines from Art Deco style. Every curve is there for a reason, and of course being a signature model Carles had a lot of input. The cutaway on the base of the body is perfect for Carle's arm position (free wrist movement).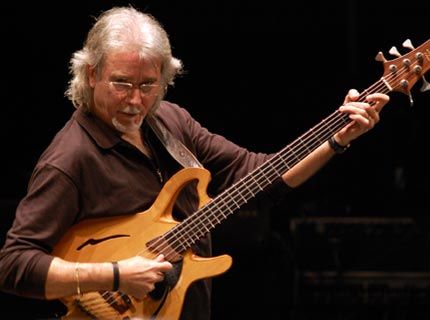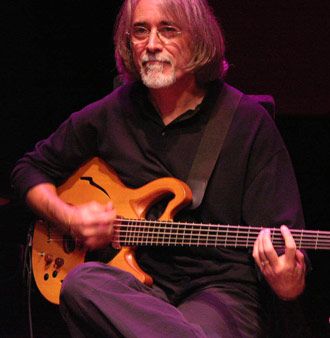 The Body is made from Spanish Cedar and has a Sitka Spruce Top. This provides a warm and acoustically rich response that is based on, you've guessed it, a good Spanish guitar. Even the smell of this instrument is identical to that of hand made classical guitars as they come out of the "guitarrero" (luthier) shop.

The multilaminated maple and wenge neckde arce y wengé runs through the body favouring sustaind a access to the top frets. Talking abut frets, the Barcelona V comes with 24 mandolin frets (thin and low), which make moving up and down the neck a breeze (almost like a fretless), and are also great for expressive vibratos. String scale is a familiar 34".
Following on the classical guitar concept, the ebony fingerboard has no face dots (side dots only), but more importantly has no radius. You may think that a flat fingerboard is a radical concept, but actually it is quite comfortable and you get used to it at once. Actually, Jerzy will be offering his solid basses with a flat fingerboard as an option from now on.

Being a signature model, it features all the specs that Carles wanted, such as 16'5mm string spacing at the bridge. This is great not just for using a pick, but also for chord work and fast lines. This somewhat tight string spacing makes the bass hard to use for slapping, but anyway this technique is miles away from the concept of this bass (if you want a great solid slapper, check out Jerzy's Basic, Excellency and similar models).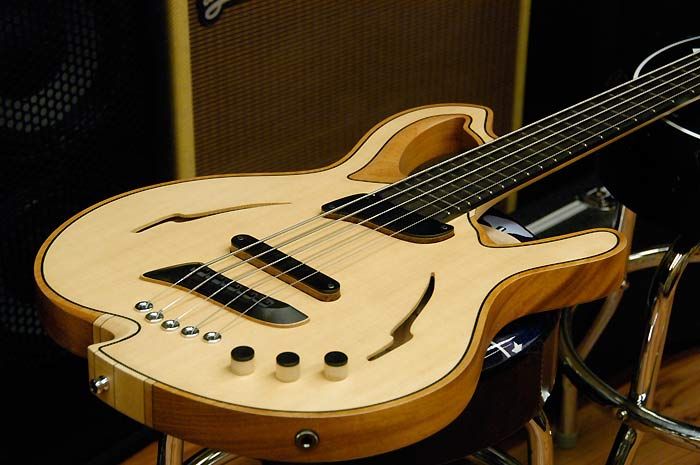 Turn to talk about the electronics now. Jerzy is one of the few luthiers to make his own pickups. This allows him to control the building process from beginning to end, and at the same time can make different housings to match the instrument aesthetically.
As you can see in the pictures, both pickups are quite apart from each other, yielding 3 very distinct sounds
1.- Bridge pickup: attack, bite, armonics, excellent note separation in chords, and flamenco "pellizco".
2.- Neck pickup: sweet, woody, jazz guitar tone with the fingers and perfectly balanced with a pick.
3.- Both pickups: they are wired in parallel, producing in a great open sound slightly hollow that is perfect for lots of styles. Very acoustic but still with punch
The hollow body construction is present in the sound at all times, but this does not limit the sound of the instrument in any way. Quite the oppositte: it seems to further accentuate the instrument's sonic character.
The pickups here are what they are supposed to to: pick up the instrument's resonances and nuances.

In order to preserve the bass' natural sound Jerzy chose to keep it 100% passive, and we think that's a wise choice.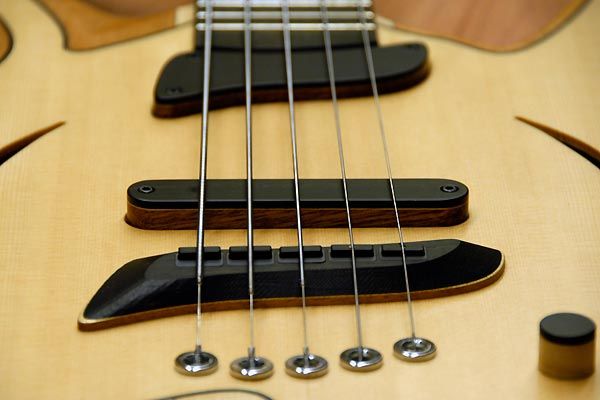 The bridge is original, functional and beautiful, and also true to the idea of "more wood, less metal". It comes with perfect string height (low action) and intonation. If you decide to change the tuning or string gauge you can swap the individual string saddles. Neat!
Strings pass through the body for more sustain and perfect break angle over the bridge.
Hipshot Ultralites have been chosen for the machineheads in order to reduce neck dive to an absolutely minimum.

We chose EADGC tuning just like Carles, and we have to say it is a true joy hearing that balanced and acoustic high register.

Just like with all custom basses, the Barcelona can be ordered as as 4 or 6 string bass, fretless, piezo, MIDI or even different scale.
Although this is an instrument though to be plugged in, we recommend you spend some time in a quiet room at night playing the bass uplugged. Quite an experience!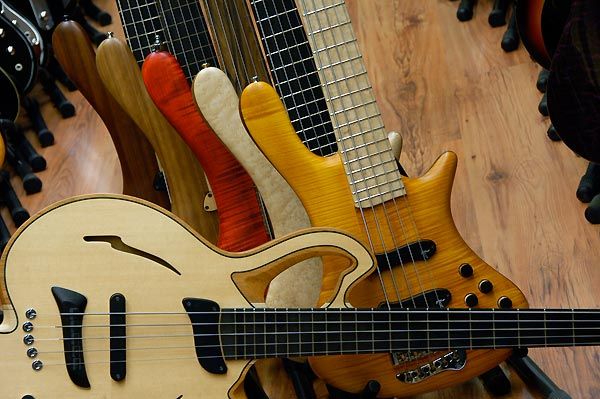 Barcelona V among other Jerzy Drozd basses in Doctorbass.net

.
Jerzy Drozd Barcelona V
Jerzy Drozd Barcelona V

http://www.jerzydrozdbasses.com/