Jerzy Drozd Mastery 5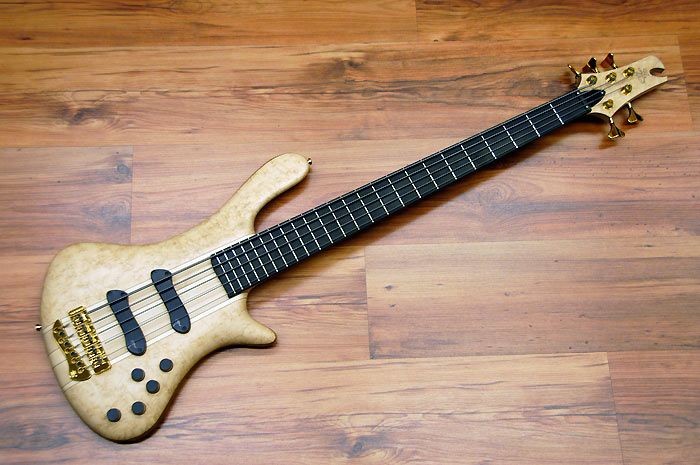 Here's a great new Jerzy Drozd Mastery V bass.
The specs, at a glance:
- 5 piece maple/wenge neck thru neck with 2 reinforcement graphite bars.
- Bird's eye maple top and matching headstock

- Ebony fingerboard

- Aguilar OBP-3 preamp

- Gold Hardware

---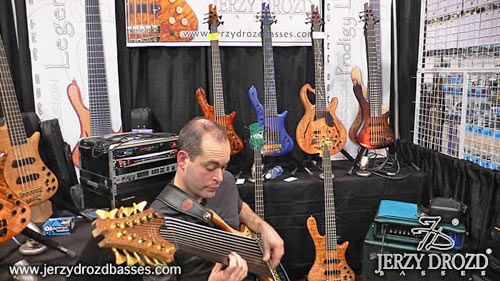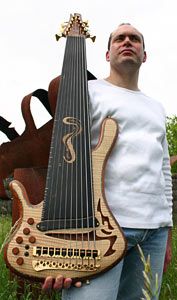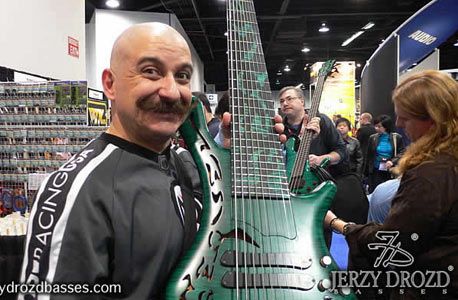 Pics from Jerzy Drozd's booth in different editions of the NAMM Show ¡n Anaheim, California
This is a "Mastery" model, which means it is the Neck thru version of the "Excellency" model.
The small and ergonomic body rests easily on your lap, and the extended upper horn reaches out until the 12th fret, so the bass balances perfectly with a strap and your left arm does not have to stretch as in some other small bodied bass with shorter upper horns.
The neck sports a beautiful piece of ebony for the fingerboard.
The neck is simply wonderful, a true joy to play. The flattened profile makes it really comfortable from the start. No suffering here.

The pickups might look unusual, and that's because they are unusual. Jerzy makes his own pickups in house in order to make sure that he can control every aspect of the bass from wood selection to the final sound. The pickups are quite flat sounding (this is a single coil, our favourite), and will just reproduce what the bass is doing acoustically, which makes perfect sense in a bass like this. There's a familiar Jazz Bass type of sound to them, with enough midrange to cut through. Actually, the bridge pickup is one of the best we've heard of this type. The onboard Aguilar OBP-3 3 band preamp is powerful enough to make the bass cover any style you might need.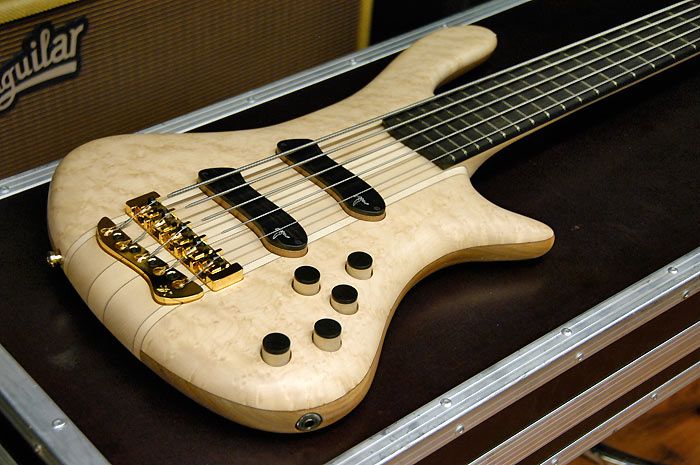 This bass produces a considerable amount of great tones that range from modern and clear to old school.
As you probably know, Neck Thru basses provide excellent sustain and of course great access to the upper frets. Unfortunately, some of these basses sometimes lack the attack that Bolt-On basses are famous for. The good news is that for some reason, this bass has a perfect balance between sustain and attack. You can use this bass even for the most agressive slapping with amazing results, but with extra sustain.
A common feature to all Jerzy Drozd basses is the excellent balance between strings and actually between notes, up and down the neck. Some basses sound great, but then you find out that some notes are louder than others (or even strings), so you are actually limited in your playing. When you try a Jerzy Drozd bass you realize it doesn't restrict you in any way. You don't have to think "I can't play that note" or "I can't play that groove in this key", because these basses are really consistent and let you forget about them and concentrate on the music. Great!

Two graphite bars in the neck provide extra stability.

The bass comes with SIT roundwound strings, and we think they work great.

The pickup is also an excellent thumb rest.
This bass has one of the best
low B
's in the market: strong, loud and clear. This is in part thanks to the 35" scale, but also due to Jerzy's expertise on ERB's (Extended Range Basses).
Jerzy Drozd Mastery 5
Jerzy Drozd Mastery 5

http://www.jerzydrozdbasses.com/