Jerzy Drozd Excellency 5 Fretless 36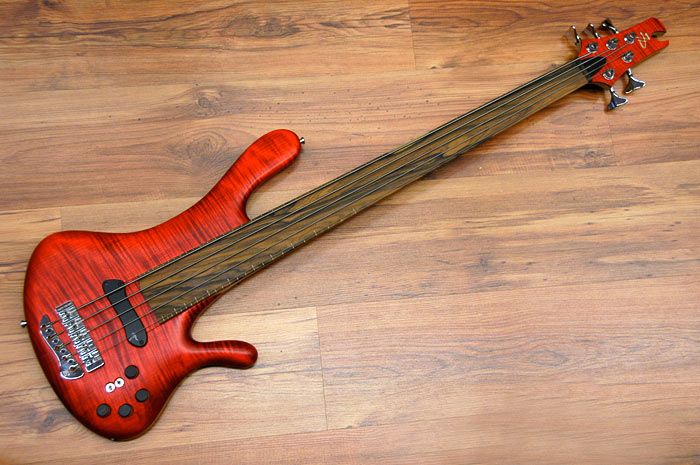 This is a great bass from Polish luthier Jerzy Drozd.
Jerzy is now based in Barcelona, and along with a small team of carftsmen, they build some of the most sought after basses in the world.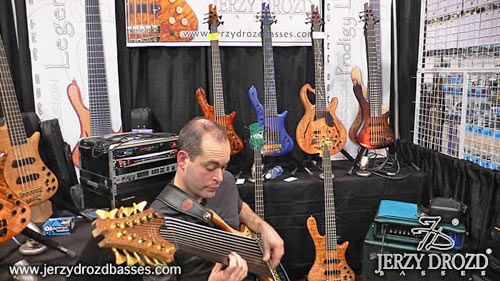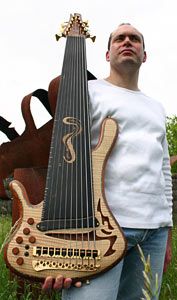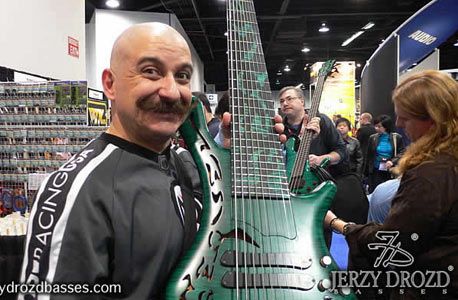 Pics from Jerzy Drozd's booth in different editions of the NAMM Show ¡n Anaheim, California
This is a "Excellency" model, one of the most affordable in Jerzy's catalogue. It is based on the "Basic" model, but with an added top. It is a bolt on, but the neck actually extends up to the pickup, which in this case is really deep into the body as you can see.
The neck is joined to the body using 7 bolts. Every aspect of this bass is designed for the most comfortable playing experience ever. The small and ergonomic body rests easily on your lap, and the extended upper horn reaches out until the 12th fret, so the bass balances perfectly with a strap and your left arm does not have to stretch as in some other small bodied bass with shorter upper horns.
The body is made from alder and maple, with a stunning flamed maple top finished in Apple Red and there is a matching headstock. The maple neck sports an absolutely gorgeous piece of Pau Ferro for the fingerboard. We asked Jerzy to send some pictures of different pieces of Pau Ferro and when we saw this one we couldn't believe it.
With a 3 octave fingerboard (36 "frets"), you can reach higher than on a 6 string bass, but you are still playing a comfortable 5 string neck. Jerzy makes three different body shapes to accommodate 24, 28 and 36 fret necks.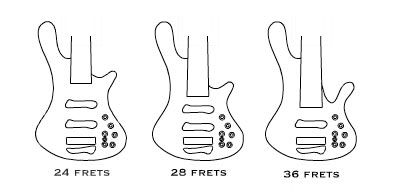 The neck is simply wonderful, a true joy to play. The flattened profile makes it really comfortable from the start. No suffering here.

The pickup might look unusual, and that's because it is unusual. Jerzy makes his own pickups in house in order to make sure that he can control every aspect of the bass from wood selection to the final sound. The pickups are quite flat sounding (this is a single coil, our favourite), and will just reproduce what the bass is doing acoustically, which makes perfect sense in a bass like this. There's a familiar Jazz Bass type of sound to them, with enough midrange to cut through. Actually, the bridge pickup is one of the best we've heard of this type. The onboard Aguilar OBP-3 3 band preamp is powerful enough to make the bass cover any style you might need. Two miniswitches control active/passive operation, as well as midrange selection (400/800 Hz).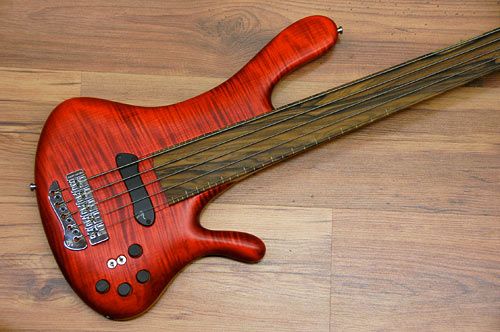 This bass produces one of the best fretless sounds that we've heard lately. The neck bolts to the body but is set quite deep into it, reaching the pickup. This is in part responsible for the excellent balance between sustain and attack. In passive mode you get a classic freltess warm sound, but when yo switch to active mode it is almost like a second bass, with more punch, detail and even aggressiveness if required. If you've been looking for a bass that can produce Jaco sounds but also allow you to play in the manner of Michael Manring, this is your bass.
A common feature to all Jerzy Drozd basses is the excellent balance between strings and actually between notes, up and down the neck. Some basses sound great, but then you find out that some notes are louder than others (or even strings), so you are actually limited in your playing. When you try a Jerzy Drozd bass you realize it doesn't restrict you in any way. You don't have to think "I can't play that note" or "I can't play that groove in this key", because these basses are really consistent and let you forget about them and concentrate on the music. Great!

The bass comes with SIT roundwound strings, and we think they work great, but of course you can experiment with flatwounds or nylon strings too.

The pickup is also an excellent thumb rest.
This bass has one of the best low B's in the market: strong, loud and clear. This is in part thanks to the 35" scale, but also due to Jerzy's expertise on ERB's (Extended Range Basses).
Jerzy Drozd Excellency 5 fretless (36)
Jerzy Drozd Excellency 5 fretless (36)

http://www.jerzydrozdbasses.com/