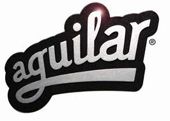 From Manhattan, New York, we add these great amps to our amp stock in the shop.
A little bit of history:

Alex Aguilar, co-founder of this brand along with bassist Dave Boonshoft, is the man behind the legendary Sadowsky onboard preamp. In 1991 Aguilar opened his own amp repair shop (next door to Sadowsky); Dave Boonshoft needed a studio quality tube preamp and asked Alex to build one for him, and the mythical DB680 was born ("DB" for Dave Boonshoft). BAsed on the success of that unit, they created Aguilar Amplification in 1994. Later would come the DB359 and DB728 heads, the OBP-1 internal preamp, and later the brand's flagship, the DB750 hybrid head, as well as the GS and DB series of bass enclosures, the world famous DB924 external preamp and the OBP-3 internal preamp (used by dozens of luthiers) and the new AG500 amps. From 2003 the company is run by Dave Boonshoft and Dave Avenius.
AGUILAR AGRO

Ths AGRO is a saturation circuit that is taken directly from the AG500's second channel. It can be used as a preamp to record direct, or as an effect. It comes with Instrument level input (with Active/Passive switch to adapt to any bass) and two outputs: one level, and one instrument level.
The Saturation control adds the desired amount of distortion, which is internally followed by a compensating
gain stage, which ensures the output volume remains constant and the channel free of overload regardless
of how much saturation is dialed in. There's enough range here to go from a mild snarl to a powerful growl and even full distortion.
The Contour pot takes care of the midrange, giving a more scooped sound as you turn it up, while the Presence control adds top end fuzz-like detail.

If you have tried bass overdrive pedals, you have probably noticed that most of them add too much distortion and what's worse, you end up losing your bottom end, making your bass sound like a big guitar. We are glad to report that there's no such thing here. The "Deep" switch (+6dB <100Hz) does a great job at making your bass sound like a bass regardless of the amount of saturation used.
Comes with On-Off footswitch and rack ears.
Aguilar AGRO
Aguilar AGRO

http://www.aguilaramp.com/