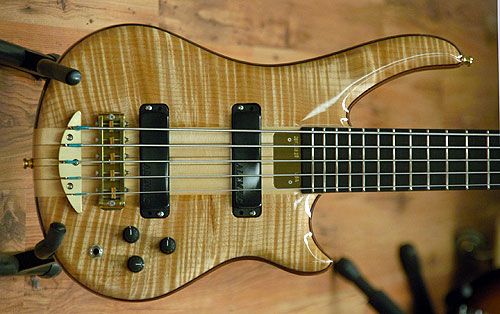 Alembic are true pioneers when it comes to modern electric bass, having introduced many features that are today considered standard in the industry. Alembic have a story as a brand that goes back almost 40 years, so we'll just tell you some details about the beginning of this now classic name:
At first Alembic was a consulting firm for some of San Francisco Bay area bands, and started to work on some instruments that needed constant repairs and also had noisy electronics. Ron realized high impedance pickups have a very limited badwidth, so he designed low impedance pickups that had a much broader frequency response, but also lower output, so he also developed the first onboard active electronics to boost the signal. Alembic founders Ron Wickersham, Bob Mathews & Rick Turner used the instruments of Jack Casady (Jefferson Airplane) and Phil Lesh (the Grateful Dead) to analize all the details and come up with improvements in electronics and more. The first Alembic bass was delivered to Jack Casady in 1971. By 1974 Stanley Clarke was sarting to get reckognicion and he needed a better instrument, so when he chose an Alembic, he boosted the company's name significantly and this in part made Alembic a primarly bass company (although they've always produced some guitars too).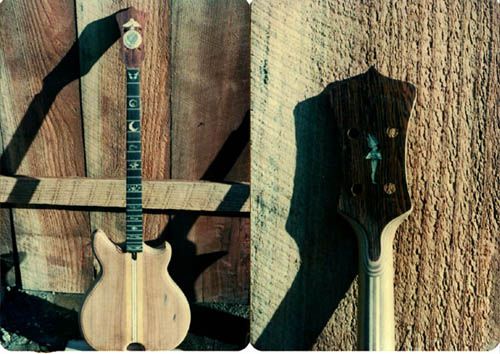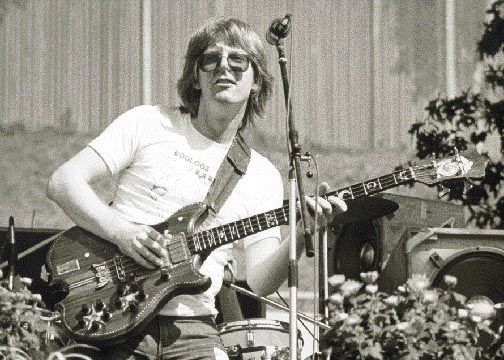 Phil Lesh's Alembic Osage bass being buit & Phil using it onstage in 1974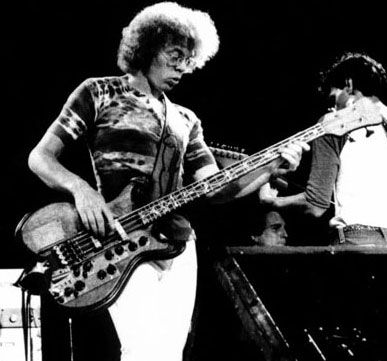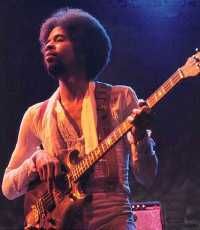 Jack Casady & Stanley Clarke back in the '70
Currently Alembic offer 10 electric bass models and one Electric Upright. It can be said they wrote the book on custom options, so these 10 models are just the starting point. Options include 7, 8, 10 & 12 string designs, as well as double basses. Prices go from roughtly 3,000 Euro for a 4 string Epic or Ecxel upt to more than 12,000 Euro for a 6 string Series II instrument.

Trip Wamsley with his 8 string Alembic Custom.

This model is an Essence, and is one of the most affordable and comfortable of the whole range. It is also the least expensive Alembic Neck Through bass, which by the way is an impressive 9 piece multilaminate consisting of 5 pieces of maple with 4 walnut stripes.
The small mahogany body is very comfortable and not heavy at all. The upper horn is long enough to provide excellent balance when used with a strap, and the lower horn is just long enough to act as a nice laprest while at the same time getting out of the way for perfect access to the upper frets.
As you can see, the top is a spectacular piece of really nice flamed maple. The High Gloss finish ion the body (satin on the neck) protects the woods, and also brings out the beauty of this veneer to full detail.
The ebony fingerboard has no marks for a really clean look and comes with 24 perfectly dressed frets. This allows you to get a low action that is just a joy to play. Even two handed tapping is a breeze.
The low B is among the best we've ever heard, which is quite surprising considering it is a standard 34" scale bass.
The nice headstock is also very well thought out, as it allows the strings to travel in a straight line from the adjustable brass nut.
As we said before, Alembic were the first to develop some of what today are cosidred as standard features, and this bass comes with some of them:
- Multilaminate neck
- Use of exotic woods
- Height adjustable brass nut
- Bridge and tailpiece for better string angle
- Own made active electronics
- Two truss rods for perfect control of the neck's curvature.
ELECTRONICS:
This bass comes with two Alembic MXY56 pickups. Controls are Master Volume, Balance and Low-pass Filter. This control tunes the low pass filter section, yielding sounds that are the closests electyronic equivalent to the waveforms of naturally resonating acoustic instruments. The gain of this system can be controlled with a small trimpot in the electronics compartment.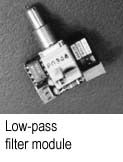 The result is a bass that is powerful, natural sounding and also very versatile. We think that Alembic have hit the nail in the head with this system, as it offers lots of sounds in a three pot instrument, and this is something many bass players have been asking for for years.
We'd also like to mention the amazing Balance control. As you probably know, this control as found on most basses acts more like a 3 way switch: as soon as you move from teh centre position, one of the pickups will dominate the sound and the other will be virtually unaudible. Well, not here. The Balance pot is really proressive, so it's worth spending some time listening to the different sounds you get as you slowly move it.

With Alembic's hardcase.

Alembic Essence 5
Alembic Essence 5

http://www.alembic.com/