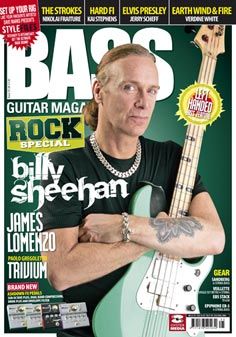 Billy Sheehan needs no instroduction. As one of rock's most influential and virtuoso bass players, he is a true pioneer when it comes to looking for your own voice on the instrument.
When you see hem play you understand why he needs a very special instrument. His amazing strenght, command of 4 fingers in the right hand and his jaw dropping tapping technique really demmand and instrument that is solidly built, offers a good range of "real life" sounds and is easy to service if somethign goes wrong in a live performance.
Billy started very early to make mods in his bass to achive the tone and playability that were in his head.
This is his Fender Precision. Sheehan did himself all the mods, like adding a humbucker pickup at the neck, installing a second output (one per pickup) scalloping the last few frets of the fingerboard (to allow him bend up the notes more effectivelu) and installing a Hipshot D-Tuner to extend the range of his bass.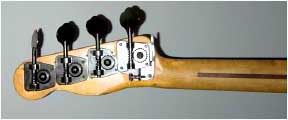 Yamaha made the first bass for Sheehan back in 1984, based on the popular BB Series, and incorporating all of Billy's ideas.
A few years later Yamaha released the first Signature de Billy Sheehan: the Attitude Ltd.
Yamaha Attitude II Ltd.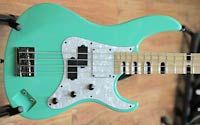 This version II of this bass (which is the only currently available) is without a doubt the best, growing from previous models and mods. This bass is exactly the same one that he uses live and in the studio. He has an agreement with Yamaha not to use custom made basses, but standard production basses.
The alder body has maple neck bolted to it. This is one of the most solid bolt-on systems in the market today. The last 5 fretst in the 21 fret neck are scalloped.
Playing this bass is quite an experience. If you know any of Sheehan's signature licks or one of the songs that's he's played in, be ready to enjoy your heart out.
The good news is that even if you are not trying to get Billy's sound or are not interested in his technique, the Attitude Ltd II is just a serious rock machine, that will give you years of joy.

Pickups are made by DiMarzio, and are special versions of tried and tested models by that brand:
Neck (or Woofer) pickup is a Will Power Neck, and is based in a DiMarzio Model One, except it has even more lows, and higher output level
Mid (or Tweeter) pickup is a Will Power Middle, and is based in a DiMarzio Model P, except it has a broader frequency response and greater note impact.
Controls are: Woofer Volume, Tweeter Volume, Woofer Tone.
The Woofer Tone is a push-pull pot, which engages a High Cut filter for earth shaking low end.
The idea of two outputs is that you can amoplify each pickup differently. This allows Billy to keep the solid low end clean, but distorting the high end from the P pickup.
Not everyone can afford to take two amps on the road, so we are glad to see that pulling the Tweeter pot changes the bass from Stereo to Mono mode. In Mono you can just use a regular cable and go to a single amp.
The bass is 100% passive.

Another Sheehan's classic feature is the
Hipshot D-Tuner,
and of course you'll find that here too. Just select a note from Eb to low B and fix it with, and you are ready to flip between that note and standard E just by using a little lever at the back.