Status is one of the true pioneers in the bass industry, having incorporated design and construction innovations such as the use of graphite and headless designs as early as the beginning of the 80's.
More than 25 years after, Rob Green is still creating wonderful basses which feature ground breaking ideas and incorporate clever design solutions. Through all these years, Status have created a large number of different basses, from 100% graphite instruments to more traditional wooden basses, but always with some special specs. These days you can find 4, 5 and 6 string basses in the Status catalogue, and you have a choice of fretted or fretless, headless or headed, plus different boody shapes and pickup/electronics otions to suit a lot of styles.
Why graphite? this is a composite material that was first used for aircraft design and later to everyday products, always proving excellent results in situations were high performance was needed. Electric basses have always suffered from neck problems, and graphite seemed to be a good alternative to wood in this respect. Undesirable effects such as neck warping and dead spots are eliminated when a neck is made of graphite. Although wood is still mainly used in bass building these days, graphite has found it's way into many highly revered "old fashioned basses" such as Fender in the form of strips that are built into the wooden necks to prevent the neck from excessive neck movement and dead spots.
One of the characteristics of graphite is that it tends to balance all the notes and strings in terms of volume, so you get an instrument that will respond perfectly to your playing regardless the fret or string you are playing or fretting.
Another advantage of graphite is that is much more stable than wood and moves less with climate or humidity changes. This makes Status basses an excellent choice for the touring bassist that is travelling constantly and playing in different areas all the time.

All Status basses come with a two way truss rod. Even if you don't have to use the truss rod to correct the neck's curvature, you can use it to adjust the instrument's playability and adapt it to your playing technique.

At Doctorbass.net we always have several of these great basses in stock.
STATUS KINGBASS STANDARD 5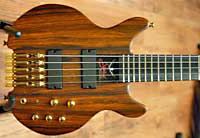 The bass you see here is the Kingbass Standard, and the name comes from the fact that bass great Mark King co-designed the instument together with Status's Rob Green.
In case you've been living in a cave for the last 25 years (or are too young), Mark King was the bassist/singerleader of the world famous band Level 42. This band created a good number of hits back in the last two decades, with a fine mixture of funk, pop, etc.
Mark King is responsible for making the bass more known among commercial music listeners, as the way he played bass (he is one of the top players in the world, and has a jaw dropping slapping technique) put the instrument up front in many pop songs.
This bass shares many of King's ideas for his ideal bass, based on his experience with dozens of instruments, such as Alembic, Jaydee, Goodfellow, and of course Status (he used them a lot back then).

The double cutaway symmetric body design is as elegant as unusual. The body is made from walnut, and the top is a spectacular piece of cocobolo.
Among the Kingbass range, there are different models. This is the Standard version, which means bolt-on and headless.

The neck has a standard 34" scale and 24 frets, so it is very easy to play. No need to worry about the low B: it is as solid and loud as they get. If you've necer played a graphite neck, first impression is a bit cold, but Status really know how to make their necks, and it seems to meld under your hand. This is what is called "easy to play" in the true sense.

Two Status humbuckers put out a very clear and defined tone. They are conrolled by a 3 band EQ, with boost/cut Bass & Treble, and selectable mid prequency (with a cut/flat/boost switch). The 18 Volt power supply from two batteries ensures extra headroom.
The mono rail bridge further aids to the idea of maximum definition and note separation. There's not a single technique you cannot use in the bass, and you always get amazing results.
Of course, slap sounds full, fast and clear. Switching to fingerstyle does not require any change in the controls, and you get a solid growl that is just addictive. Even using a pick with the front pickups yields a wonderful sound that reminds of a classic Precision, except with extra detail and warmth. Tapping is also remarkably clear, with that sought after piano like attack.

Plugged to an amp this bass may sound a little colder than an all wood bass, but when you use it live you'll understand why so many sound engineers love Status basses: it is really easy to mix this bass and make it cut through a wall of guitars, keyboards and horns.
The bass comes with 35-115 strings. Of course you can use whatever gauge you like, but before you change them, give them a chance; you may be surprised how well Status basses sound and play with light strings. Such gauge in a Fender style bass would produce a thin sound, but in this case you get a full sound, and a very wasy to play bass thanks to the low tension of the thin gauge.
You may or not like the headless design, but is has a couple of advantages: you can carry it around in a guitar's gigbag, and also tuning is more stable than headed systems. If you've ever heard that headless basses suffer from lack of sustain, all you have to do is pluck a string in this bass and start counting!!

Status Kingbass Standard 5
Status Kingbass Standard 5

http://www.status-graphite.com/status/carts3/frames/frame3.htm