This is a very special brand new Jerzy Drozd Excellency 5 fretless bass.
Instead of the standard zebrawood top, this bass sports an impressive spalted sycamore top and maple pickup covers and knobs for a distinctive look.
We asked Jerzy to finish the fretless ebony fingerboard as he did in Yves Carbonne's 10 string bass: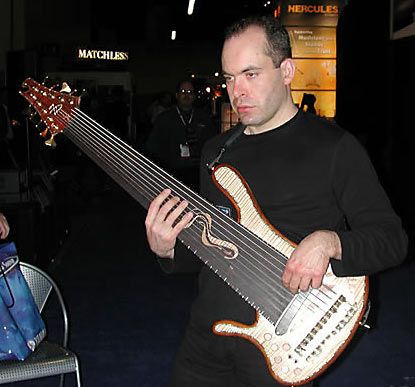 Thin mother of pearl inlays marke the "frets" position and are the perfect compromise between looks and function. The marks are short and stop just as they reach the low B. After the 12th fret these lines appear also on the treble side.
As always with Jerzy's basses, the neck has a nice flattened D profile to it that is perfect for those long playing sessions. The bass is lightweight also, and balances perfectly on a strap. Well designed, indeed.
How does it sound then? Jerzy's handwound pickups capture the instrument's full frequency response without overly boosting or cutting any speciffic area. This somewhat flat platform is then run through an Aguilar OBP-3 preamp, which is powerful enough to get you anywhere you want to go: from deep lows to singing mids and detailed trebles.
Set the neck a with a little less relief than you would in a fretted bass, and you will get that sought after delicious fretless "mwah".

The bas price of an Excellency 5 in Spain is 2360€ incl. 16% VAT)), but there are some nice extras added
- Spalted sycamore top ___450€
- Aguilar OBP-3 preamp __100€
- Mid frequency selector (400/800Hz)__50€
-Activ/Pasiv switch_______50€
- YC type fretless lines__145€
Jerzy Drozd Excellency Fretless
Jerzy Drozd Excellency Fretless

http://www.jerzydrozdbasses.com/