We are glad to introduce these products that represent excellent value for money and come from the great bass player Adrian Maruszcyk. Here are some words from Adrian:
For 30 years and counting, I've been putting my heart into music and everything related with it. I've had the opportunity to use a variety of different instruments, amps and other gear during live shows and studio work. Thanks to extensive testing and research, I collected a great deal of experience in the areas of tone woods, pickups, hardware and strings.

The knowledge I collected during those years allowed me to create musical instruments, amplifiers and accessories for the working musician whose functionality, tone and price/performance ratio are second to none. The constant development and improvement of my products will always remain my top priority.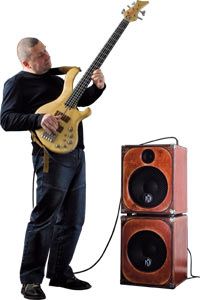 Adrian Kuban-Maruszczyk
We've met Adrian several times at International Trade Shows like the Frankfurt Musikmesse, the European Bass Day (Germany), etc. His slogan "from player to player" seems to perfectly reflect Adrian's approach to business.
Maruszcyk basses are professional tools for the working bass player who doesn't want to spend a fortune on a new instrument, neither he needs an "exotic" bass. You actually get more than what you pay for, and that is great news. That is why we have decided to add Maruszcyk basses to our stock. We think they fit really well in this price range.
MARUSZCYK Barabass Combo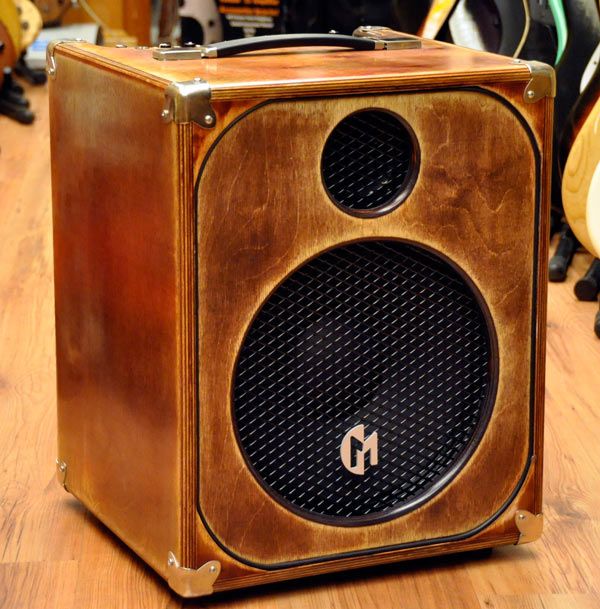 Apart from his nice Maruszcyz basses, Adrian also felt the need to release a professional bass combo that would address the needs of any working bass player, paying special attention to:
- Power ("let the bass be heard", as Adrian says)
- Great natural sound so that the bass is amplified with all its details and nuances.
- Extra section of filters to modify the sound and adapt it to a variety of styles, from rock to reggae, funk, latin, etc.
- Easy to move around
- Nice to look at! As Adrian says, this is probably the only bass amp that will also look great in your living room ;-)
The special design Emminence 12" speaker works admirably well in the low end region, and of course has excellent mids. The tweeter comes with a 0/50/100 level control. We find it sounds really natural in the middle position, but of course you can turn it off if you want a more traditional sound, or turn it all the way up for a more aggressive type of sound.
The 4 band EQ is really sensitive. With all the bands set flat, the amp is remarkably flat, but of course the EQ is there to be used to adapt it to your bass, venue or style.
The Extra Filter Section is really well thought out. It is obvious that there's a bassplayer behind the design of this amp. Controls here are:
Presence: Adds extra highs and string detail.
Bottom On/Off: Adds a very noce low end thump, great for reggae or rock.
Contour: This pot controls the overal midrange of the amp, and allows you to cut the mids for a scooped slap sound, and also the opposite: add those trademark Ampeg mids that are synonimum with Bass Rock Sounds. The Contour is so flexible, that we think you'll be able to use this amp for many more styles than any other. Great feature!
Some other nice features are:
- Gain range adapted from passive to active basses
- Mute switch
- Separate peak/clip indicators at the preamp and power amp stages
- Stereo aux input for mp3, iPod, etc, with a switch to send it to the desk via the XLR output or not (neat!)
- Outputs for Tuner, Ext. Cab, Headphones, as well as Effects Send & Return

With a nice power section of clean 400W @ 4 Ohms the Barabass is more than enough for most rehearsals and club gigs. If you need more power, just add the matching extention cab. There's even an active ext. cab in case you need EVEN more power.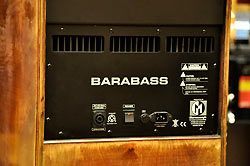 Back pannel with the speakon connector for the external speaker.
Comes with a padded gigbag to protect the wooden box.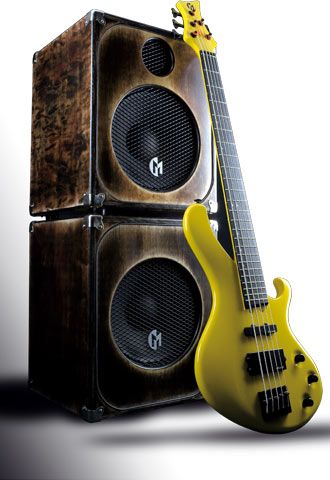 Full Barabass stack (combo + ext. cab and a Maruszcyk Frog bass)
Maruszczyk Barabass Combo